Child-Abuse Cases Cost Church Millions
Florida Lawyers Get $3 Million for 4 Boys' Families

By Carl M. Cannon
San Jose Mercury News (CA)
December 31, 1987

[See a linked list of all the articles in the Priests Who Molest series.]

After 16 months of prying open the closed doors of a Florida diocese, accumulating in the process more than 30 pounds worth of testimony, two Florida lawyers demonstrated the cost to the Catholic Church of being inattentive to complaints about priests who molest children.

The price was about $3 million, which the diocese agreed to pay to the families of four boys molested by a parish priest. The Orlando litigation demonstrates the potentially staggering liability facing the Catholic Church over molestation cases pursued by tenacious attorneys working on contingency fees.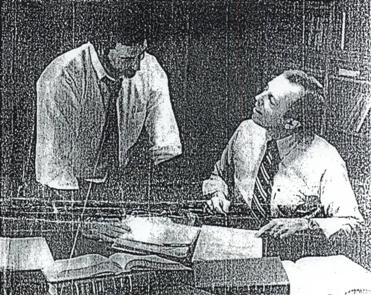 Florida lawyers Sheldon Stevens, left, and Charles E. Davis took on the Orlando diocese and gained millions of dollars in settlements for molestation victims. Special to the Mercury news.
Officials won't say how much the church has paid out nationally in such cases. But the extent of its liability over the next 10 years has been estimated at $1 billion in a 1986 report to the church prepared by three Catholic experts on the molestation problem.
''It's called the liability trail," said Ken Wooden, a child-abuse expert from Vermont. "You get a Doberman pinscher attorney, he sniffs the trail. Who does it lead to? It leads to the bishop who reassigned the priest. Then they pay."
The two lawyers who took on the Orlando diocese are Sheldon Stevens of Merritt Island and Charles E. Davis of Orlando. Stevens, who knew nothing about pedophilia — the sexual attraction of adults to children — and little about the Catholic Church, got the case by happenstance from a disabled former client for whom he once had helped obtain Social Security benefits.
It started in December 1984, after a 20-year-old University of Florida student named Robert F. attempted suicide. He explained to his worried parents that he believed his depression stemmed from conflicts about his sexual identity that developed because he was molested by the family's parish priest.
The priest was Father William Authenrieth, assistant pastor at St. Mary's Catholic Church in Rockledge, Fla., where all three of the family's sons attended grammar school and served as altar boys and where both parents worked as volunteers.
When the boy's father questioned his other two sons, both said that Authenrieth had repeatedly fondled them, too. That discovery would be a pattern for the whole case, characterized by finding new victims — and new molesters — at every turn.
Church pays millions to settle molestation cases [headline of continuation]
It is a pattern that has surfaced in cases around the country, too, exposing the church to claims that it is responsible for the emotional damage inflicted by pedophilic priests.
In Springfield, Ill., earlier this year, the diocese paid out $2.5 million to three victims, according to a source knowledgeable about the settlements.
In Greensburg, Pa., the diocese last year agreed to pay $375,000 to three boys fondled by a priest.
In Lafayette, La., the diocese over the past three years paid settlements ranging from $450,000 to $1.2 million per victim abused by Father Gilbert Gauthe. And earlier this month, a jury assessed $1.8 million in damages against the diocese in a lawsuit by a 19-year-old Intercoastal City resident abused by Gauthe over a three- or four-year period when he was an altar boy.
In Washington, D.C., a lawsuit in which a victim's family asked for $200 million was settled this year and the file was sealed. Typically, church attorneys insist as part of the agreement that the amounts paid remain secret.
$2.5 million settlement
In the Orlando cases, though neither side will say how much was paid, court records dealing with legal fees show that if lawyers in the case charged a customary fee ranging from 33 percent to 40 percent, the diocese paid at least $2.5 million to the three boys. A fourth case that arose later was settled for $490,000 to be paid to victim Patrick G. over the next 20 years.
The Orlando diocese settled for so much money without going to trial for two reasons, said Stevens and Davis. First, they unearthed evidence showing that at least five other priests in the diocese had been accused by children or their parents of improper sexual behavior with the children since the current bishop took over the diocese in 1974. Secondly, they discovered evidence that the diocese had been warned several times about Authenrieth and had done little or nothing to deal with the problem.
''We established that there was a record in that diocese going back 15 years of homosexual molestations of children and that the diocese had chosen to handle it by looking the other way," Stevens said. "And since we were seeking punitive damages, we would have introduced it all. That's why they settled for so much." Diocese attorney Robert J. Pleus Jr. disagreed: "I don't think that's a fair characterization. What Stevens and Davis tried to do was muddy the issue by implying that pedophilia and homosexuality are one and the same. Throughout this litigation, they'd find evidence of a priest who'd had problems with homosexuality and say, 'Here's another Authenrieth.'
''I think the entire way they tried to characterize the thing is a gross injustice. I've been practicing law 25 years, and I never had a case where lawyers on one side so grossly misconstrued the issues."
The case might not have gotten as far as the lawyers, if the first church officials who heard about it had reacted differently, Stevens said. Before any lawyer was aware of the case, the father of the three molested boys told his parish priest about the molestings. His pastor at St. Mary's, he recalled later, recommended prayer, adding, "It's not for you to judge. That's for God to do." So in October 1985, he went to see Stevens.
''The entire fabric of this family is their faith in the Catholic Church," Stevens said. "Every kid goes to school at the church; the father, who is disabled, works there as a volunteer. When he came to my office, he was weeping."
Lie detector tests
Nevertheless, Stevens at first was incredulous that a Catholic priest had molested three young boys in the same Catholic family and that the Orlando diocese wasn't interested in helping them. Before filing a lawsuit, Stevens had the father and three boys sign sworn affidavits and then take lie detector tests, which they passed, Stevens said.
Using two confidential diocesan sources who didn't like what was going on and a plaintiff's power to take sworn testimony before a trial, Stevens and Davis set out to prove that the diocese had been negligent in its handling of the problem of pedophile priests.
Among the depositions was the testimony of a dozen priests in the diocese — including Authenrieth, who was given immunity from criminal prosecution — Bishop Thomas J. Grady and Vicar General Nicholas King. Here is some of what the depositions contained:

Authenrieth, who dated his own experiences with male children back to the sixth grade, came to Florida in 1973 from his home diocese in Brooklyn after being "threatened" with exposure by a young parishioner "about 18," with whom he'd had sex. Authenrieth also said he'd had homosexual relations with parishioners everywhere he'd ever served. Asked whether these relations were with children, he took the Fifth Amendment, except insofar as the four plaintiffs were concerned. He said that he had fondled them, showed them pornography and engaged in oral sex with one of them.
In his deposition, Authenrieth said that in his career he'd told at least four priests, one of them a monsignor, about his sexual activities with young males, but that aside from a single suggestion — which he ignored — that he seek counseling, nothing was done. He even discussed this problem while he was on a retreat in Washington, D.C., held for the purpose of deciding whether the seminarians present were suitable to become priests.

Authenrieth continued to have sex with "parishioners" during his three-year probationary period in Orlando, he testified, and continued to confess these acts to other priests. In January 1976, he was sent to All Souls Church in Sanford, Fla., to be associate pastor and a teacher at the Catholic grammar school there.
Priest is transferred
In July 1978, he was transferred by the personnel review board of the diocese after a meeting with Bishop Grady. That meeting was prompted when a parishioner said that Authenrieth had touched his son's genitals. Authenrieth was sent to St. Mary's in Rockledge.
It was there that he molested the three brothers and Patrick G.
Authenrieth "hated girls," former altar girl Amanda Beth Jones testified. The students soon nicknamed him "Father Gay Lord," and the altar boys had a standing joke that if they turned their backs on him, they'd get a pinch or a pat, she said.

Once, in May 1983, Authenrieth testified, he feared he'd been discovered when an anonymous letter was sent to St. Mary's pastor Terrence J. Farrelly.
The letter warned of an impending scandal at the church involving Authenrieth and included a newspaper clipping of a case in which an adult was convicted of molesting children.
''And the last statement was to the effect that the person wished that Father Authenrieth would keep his hands off the altar boys," Farrelly said.
Confronted by Farrelly, Authenrieth testified, "I felt the stomach sink."
Farrelly was assured by Authenrieth that he'd done nothing wrong and gave the letter to Authenrieth, who destroyed it.

On Aug. 10, 1983, Authenrieth was returned to All Souls in Sanford in what church officials described as a routine transfer.
In April, teachers demanded, and received, an audience with the vicar general, Father King. The chief complaints about Authenrieth were that he'd made sexually suggestive comments to both boys and girls during confirmation interviews and used vulgar language around the parish, especially to teen-age boys.
It was decided that Authenrieth would leave All Souls for the second time. This time, he was assigned to a parish in Mount Dora where there was no school. He was there until October 1985, when Stevens and Davis filed their lawsuit. After that, he was sent to a House of Affirmation in Massachusetts and was suspended as a priest.
Diocese denies knowledge
''We had absolutely no knowledge of what Authenrieth was doing," diocesan lawyer Pleus insisted. "There are all kinds of insinuations that we should have known because if you took all these things and the same person knew them all, you'd say we should have known what was going on. But different people were getting these reports."
Pleus added that diocesan policy since the Authenrieth case is that all such reports are funneled immediately to the diocese chancellor's office — and the priests have been warned in writing about the state of Florida's child-abuse reporting requirements.
But Stevens and Davis also gathered evidence about other priests who'd been accused of molesting children, and maintained that the diocese knew about the issue long before 1985 and should have had a policy years before Authenrieth got in trouble. Other priests they investigated included:

Thomas S., now married and living in the Boston area, who was a priest working at Bishop Moore High School. He testified that he was kicked out of the diocese in 1976 by Grady and King after parents of a 16-year-old youth named Dennis C. complained that he had molested their son. Father S., who was transferred to a Richmond, Va., parish, also testified that the Orlando diocese refused to give him psychiatric treatment even though he "begged" Bishop Grady.

Father Eamon O'Dowd, who had been accused in 1977 of being improper with two 12-year-old girls at St. Charles Church in Orlando. O'Dowd was accused of touching the girls in a way that alarmed them, but vowed he'd meant no harm and promised to be more careful in the future and the matter was dropped to the parents' satisfaction.
But in 1983 he was arrested when parents of another St. Charles girl complained he'd fondled their daughter. Charges were dropped in exchange for O'Dowd undergoing psychiatric treatment. The family's lawsuit against the diocese resulted in a $250,000 award to the girl.
'It's not fair'
O'Dowd, currently a priest in the Palm Beach parish, said the psychiatric report he'd received showed he was not a pedophile.
''It's not fair for this to haunt you all the rest of your life," he said. "I'm just trying to pick up the pieces of my life."

Father Thomas James Pagni III, who, the two lawyers learned, was transferred in January 1986 after he was accused of molesting a boy in Leesburg, Fla. Pagni was subpoenaed, but he invoked the Fifth Amendment when asked about molesting children, though he confirmed that such an allegation had been made against him and brought to the attention of diocesan officials.
Four priests subpoenaed by Stevens and Davis each recalled a different child-molesting allegation that had been made against Pagni, and according to testimony of his superiors in the diocese, Pagni had received psychiatric care because of a molesting complaint as far back as 1977.
Parishioner complained
One priest, Father Lawrence Redmond, testified that Pagni was transferred out of his parish by Bishop Grady at Redmond's insistence after another parishioner told Redmond that Pagni had had relations with both the parishioner's wife and sons.
''(The parishioner) said that Father Pagni was — he — the only thing I recall was he called him AC-DC. . . . He threatened to 'tell everyone under the sun.' " Diocesan officials refused to say where Pagni is, saying only that he still is a priest and, at the diocese's expense, is studying to become a psychological counselor.
As evidence mounted that the Orlando diocese had previous experience with child-molesting complaints before the Authenrieth case, so did the desire of the Orlando diocese to settle the cases, Stevens and Davis said. At the end of this lengthy process of legal discovery, the Orlando diocese paid out a lot of money. Whether it learned its lesson is another question. "Oh, God, yes," Pleus said. Stevens and Davis said they think not. "A boy who spent hours and hours with Authenrieth while he was at that last parish in Mount Dora is having behavior problems," Stevens said in an interview. "But to this day, the church won't even check it out."